Bryan Statham transitions to Vice Chair of the Board
RxBenefits, the employee benefits industry's first technology-enabled pharmacy benefits optimizer (PBO), today announced that its Board of Directors has appointed Wendy Barnes Chief Executive Officer. Barnes succeeds Bryan Statham, who served as the company's president from 2013 to 2016 and CEO for the past six years. Statham has transitioned to the role of Vice Chair of the Board, assisting in overseeing the company's strategic vision.
A seasoned leader with more than 25 years of healthcare management experience, Barnes joins RxBenefits from Express Scripts, where she spent roughly eight years serving in a variety of leadership positions. Most recently, Barnes served as president of Express Scripts Pharmacy, where she was responsible for the service, operations, and financial success of the company's multiple pharmacies and home delivery business.
"I could not think of a better person than Wendy to take the reins at our company during this exciting time," said Statham. "She is both a strategic leader and visionary, driven by a desire to disrupt the unsustainable trajectory of healthcare spending and increase the value delivered to patients. I have no doubt that RxBenefits will continue to innovate and lead the way under Wendy's guidance and leadership. I look forward to working alongside her and the team in my new role."
Rick Jelinek, Chairman of the Board, said, "In addition to deep experience in health and pharmacy benefits management, Wendy possesses a keen understanding of and insight into the complex pharmacy benefits landscape. As RxBenefits looks to further its mission to deliver greater healthcare value to its clients and partners, Wendy's ability to find ways to reduce costs and improve care makes her the ideal leader to head the company."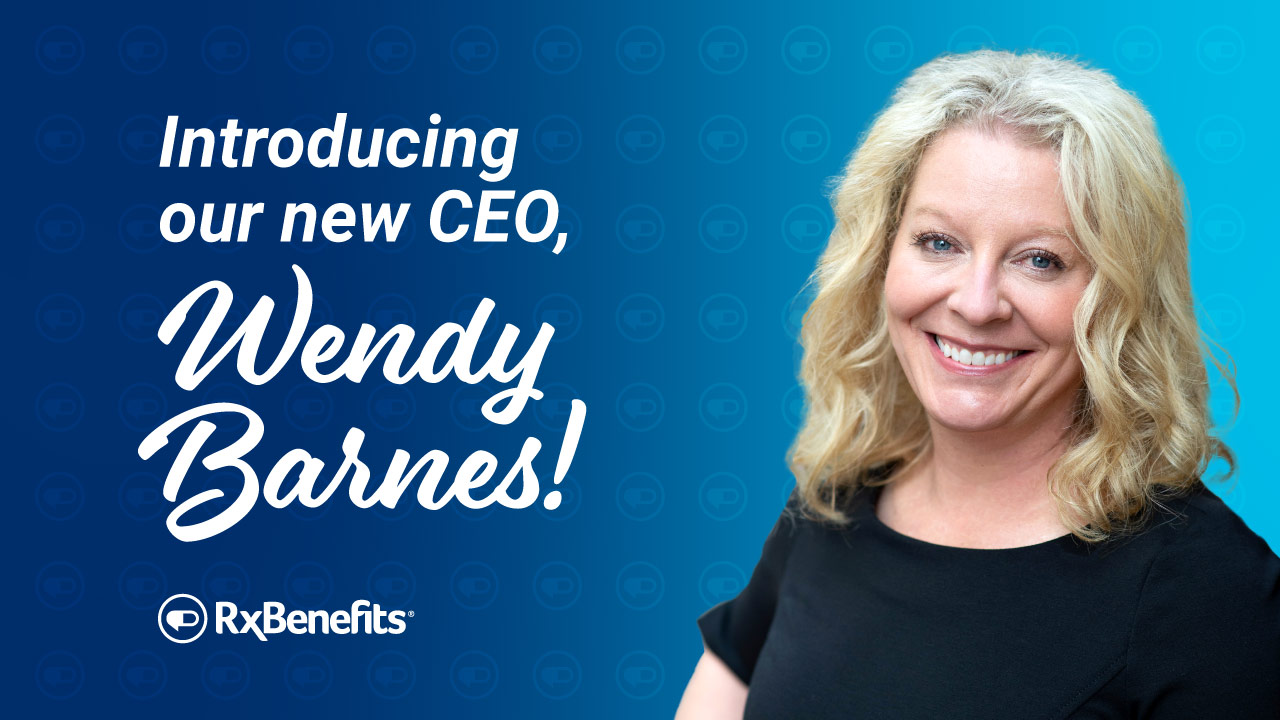 Barnes joins RxBenefits at a time of significant growth. Backed by Advent International, one of the largest and most experienced global private equity investors, and Great Hill Partners, a leading private equity firm that invests in high-growth, disruptive companies, the company acquired Towson, MD-based Confidio in 2021. Since then, RxBenefits has rapidly expanded its solutions to address clients' diverse and emerging pharmacy benefits needs, providing benefits advisors and midmarket employers with virtually unmatched scale, expertise, and Fortune 10 purchasing power. RxBenefits employs more than 750 pharmacy benefit experts, serves the needs of over three million members, and manages over $3 billion in annual pharmacy spend.
"I am honored to join and lead the RxBenefits team at a time when self-insured employers and their members need our solutions more than ever. I have gravitated toward companies with two main characteristics throughout my career — a clear mission to improve patient lives and a stern focus on bending the healthcare cost curve. RxBenefits is leading the way in both areas," said Barnes. "As we look to the future, we will remain hyper-fixated on providing the midmarket with cost-effective, high-quality pharmacy benefit solutions, transparent, industry-leading pricing, and exceptional service."
Barnes continued, "In a scale-driven industry, our independent PBO model uniquely enables us to service the needs of small and middle-market companies, delivering competitive pricing, predictable trend management, and enhanced clinical oversight to address the rising cost and risk associated with specialty medications."
Jelinek added, "On behalf of the entire Board, I sincerely thank Bryan for his countless contributions and dedication to RxBenefits over his many years of service, and look forward to having him continue to be a part of the company as Vice Chair."
RxBenefits has again been named a Best Place to Work by the Birmingham Business Journal for the sixth consecutive year, while the company's customer service team was recognized as a winner in the 2022 Stevie® Awards for Sales & Customer Service in the Health & Pharmaceuticals sector for the third year in a row.
About RxBenefits
RxBenefits is a technology-enabled pharmacy benefits optimizer (PBO) with more than 750 pharmacy pricing, data, and clinical experts working together to deliver prescription benefit savings to employee benefit consultants and their self-insured clients. With more than 3 million members, RxBenefits brings market-leading purchasing power, independent clinical solutions, and high-touch service to its customers – ensuring that all plan sponsors, regardless of size, can provide an affordable and valuable pharmacy benefit plan to their employees. The company is headquartered in Birmingham, AL with a second office in Towson, Maryland. Follow the company on Facebook, Twitter, and LinkedIn.
About Advent International
Founded in 1984, Advent International is one of the largest and most experienced global private equity investors. The firm has invested in over 390 private equity investments across 41 countries, and as of December 31, 2021, had $88 billion in assets under management. With 15 offices in 12 countries, Advent has established a globally integrated team of over 265 private equity investment professionals across North America, Europe, Latin America, and Asia. The firm focuses on investments in five core sectors, including business and financial services; health care; industrial; retail, consumer and leisure; and technology. For over 35 years, Advent has been dedicated to international investing and remains committed to partnering with management teams to deliver sustained revenue and earnings growth for its portfolio companies.
For more information, visit
Website: www.adventinternational.com
LinkedIn: www.linkedin.com/company/advent-international
About Great Hill Partners
Great Hill Partners is a Boston-based private equity firm targeting investments of $25 million to $500 million in high-growth companies across the software, digital commerce, financial technology, healthcare, and digital infrastructure sectors. Over the past two decades, Great Hill has raised over $12 billion of commitments and invested in more than 90 companies, establishing an extensive track record of building long-term partnerships with entrepreneurs and providing flexible resources to help middle-market companies scale. Great Hill has recently been recognized for its industry leadership, being ranked #5 in the 2021 HEC – DowJones Private Equity Performance Ranking, which evaluated fund performance of 517 leading private equity firms between 2008 – 2017. For more information, including a list of all Great Hill investments, visit www.greathillpartners.com.