A benefit advisor is a strategic partner for your business who guides you toward the best options in the market. They influence your employees' health and job satisfaction by helping you build a plan that balances your budget needs with your employees' satisfaction. Benefit advisors can bring you a whole gamut of options, but you know what fits your employees' needs.
Like a trusted mentor, your benefit advisor should feel comfortable answering questions to help you grow your understanding of the marketplace, improve your companies offerings, and find opportunities for savings. The next time you meet with your benefit advisor, ask these five questions to get the best pharmacy benefit recommendation to meet your overall benefits package goals.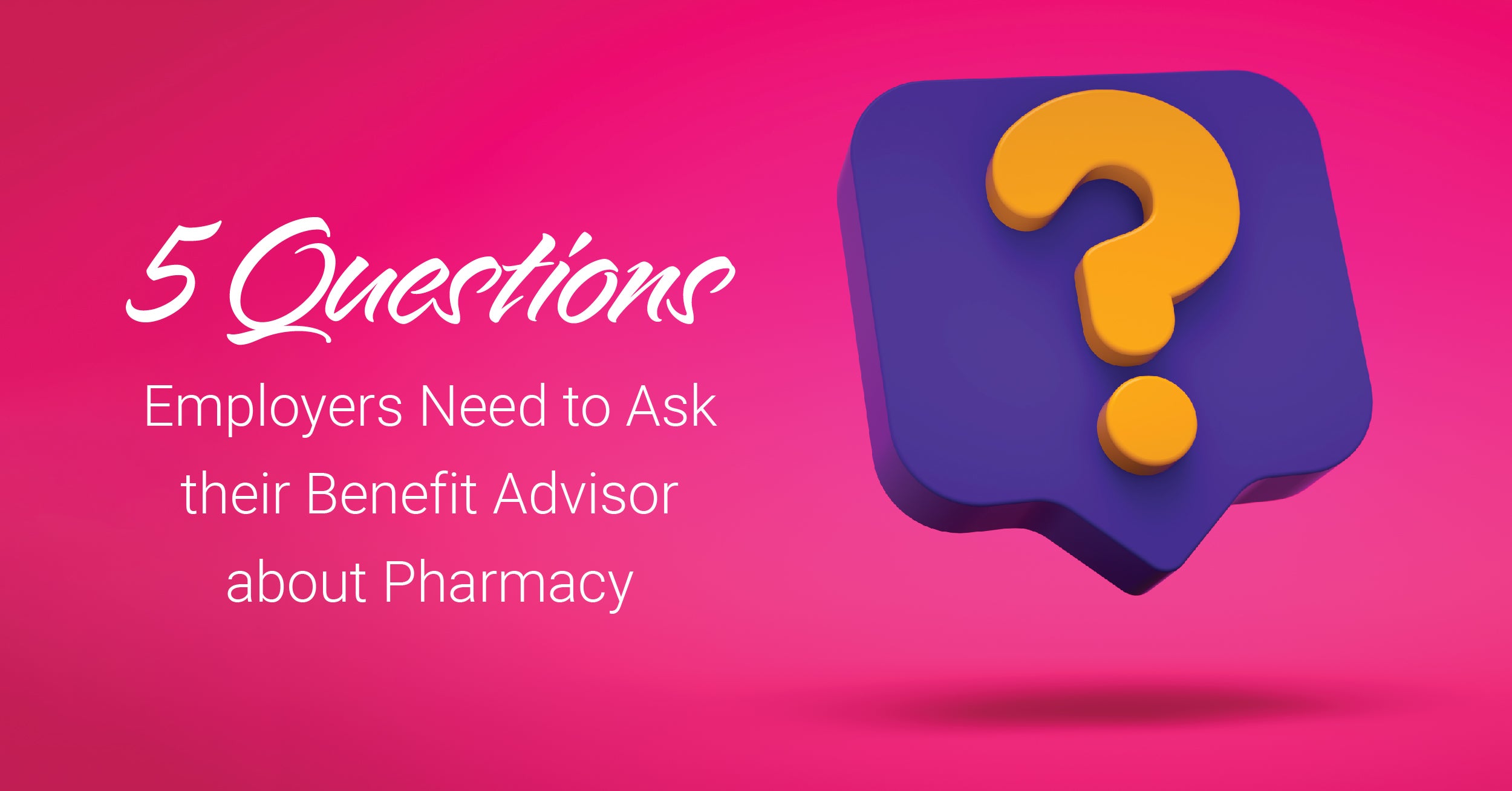 1) How will pharmacy benefit programs impact my medical benefit?
While the medical plan typically brings the highest cost and most attention during a benefits package discussion, your benefit advisor should understand the holistic picture of how your programs will work together. A well-designed pharmacy plan focusing on member outcomes can lower medical benefit costs by increasing overall well-being and preventing complications. Ask for the rationale behind any recommendations for pharmacy benefit programs that don't include a clinical oversight element. Ensure their reasoning goes beyond, "This is the lowest number when I put them all on the same spreadsheet."
2) What are the latest trends in high-cost specialty medications, and what are the latest innovations to protect my benefits from the increased cost and risk?
Accounting for 50 percent of all drug spending, specialty medication can treat or cure chronic, rare, and complex illnesses. Nearly 80 percent of new drugs qualify as specialty medications, and the likelihood of a specialty claim hitting your plan increases yearly. Planning a sustainable benefit program for pharmacy and beyond requires understanding specialty medications. Your benefit advisor should bring the latest solutions for protecting your self-funded plan from these increasingly expensive and common drug claims to the table.
Watch our webinar on-demand: Solutions for Staying Self-Funded in an Increasingly Costly Pharmacy World
3) What are the latest legislative developments that impact my plan design options?
Multiple state legislators have pharmacy benefit regulations on the docket this year, from anti-steering regulations to limits on copay accumulator programs. The RxBenefits legal team is monitoring more than 200 bills in 2023. Asking your benefit advisor and your legal counsel about the regulations in your state and how they may impact your plan will not only help you prepare for the future, but may also provide an opportunity to make your voice heard before a proposed bill becomes law.
4) Are there patterns in the claims data that reveal issues with the plan design?
Looking directly at your claims and contract history can uncover issues with you plan design or red flags in member utilization. A lot can hide in the fine print of your pharmacy benefits contract ranging from how your PBM defines a single-source generic to limits on enrollment changes. Your employees may be using next-generation diabetes drugs for weight loss, or an employee may take the wrong dosage of specialty medication. By requesting a Pharmacy Performance Analysis, your benefit advisor can work with pharmacy experts to explore the trends driving plan costs and potential strategies for better health and financial outcomes.
5) How much are my clinical programs saving?
You should be able to get information from your benefit advisor about how employees are using their benefits, what claims were avoided, and the return on investment for your plan – all of which will help you understand the actual value of your pharmacy benefit. Pharmacy benefit managers with automatic pathways for prior authorization may expedite approvals, but this can also lead to employees getting prescriptions filled for unnecessary or incorrectly prescribed medications.
From supporting your staff to preparing for a sustainable future, asking these questions can ensure you're on the same page and working with the right benefit vendors. Look for partners that align with your business goals and adapt to your needs as they change over time, and you will find the right fit for your business needs and company values. When your benefit advisor brings the value your business needs to the table, it will be evident in your company's and your employees' well-being.