Top 3 Things You'll Learn
Ever-more-expensive specialty drugs are entering the market
Five drugs treating rare conditions carry price tags up to and exceeding $1M
A multi-layered strategy can protect plans from even the priciest claims
More than 160 medications are available that each have the potential to top $250,000 annually.
Why are some drugs so expensive? The high cost of specialty drugs is due to a number of factors, including but not limited to the careful handling and close oversight from a specialist some drugs require, as well as the high cost of research and development spread out over a much smaller population.
The ever-rising cost of specialty drugs can cause employers to worry about the safety of their pharmacy benefits budget. It's good for even well-protected employers to be aware of some of the significant price tags many drugs carry.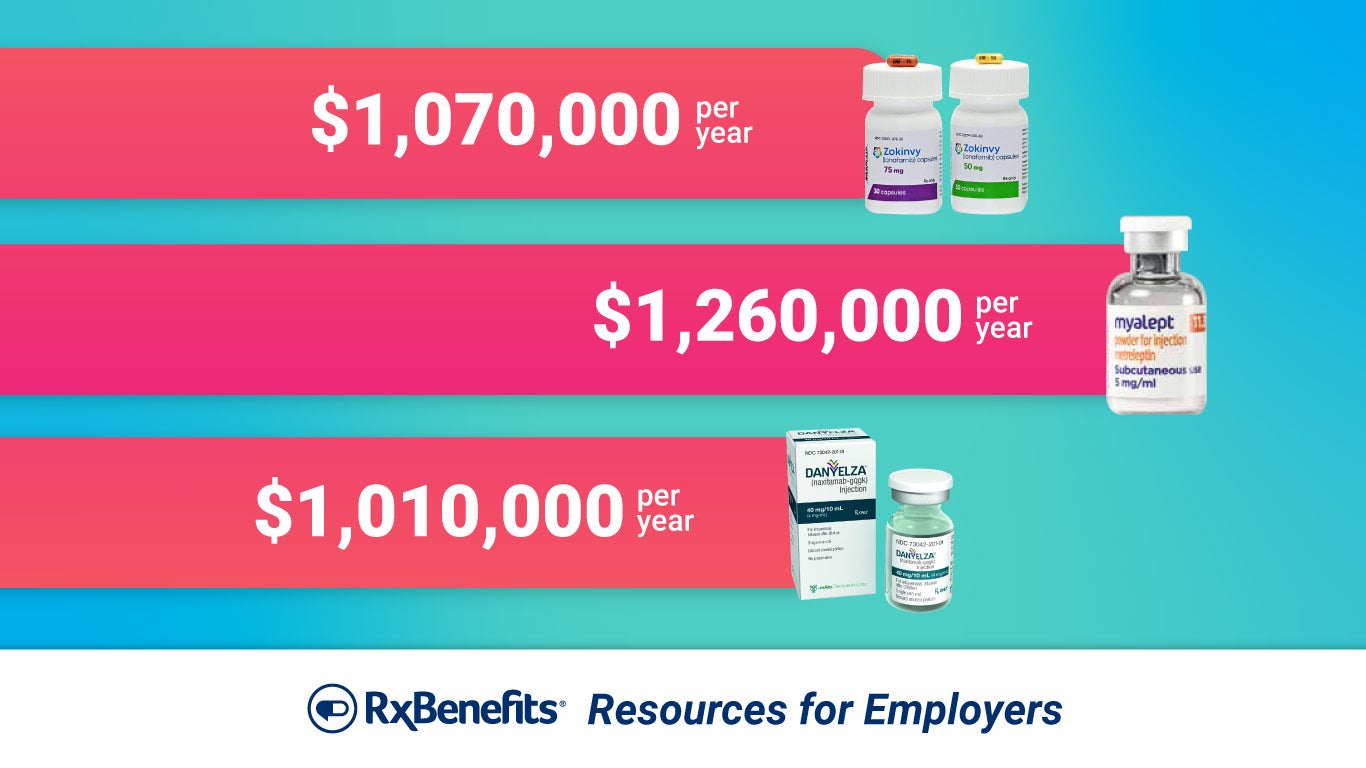 The 5 Most Expensive Drugs in the U.S.
Myalept – $1,260,000 per year
Myalept is used to treat leptin deficiency in patients with generalized lipodystrophy syndromes. These are rare syndromes – an estimated 1 to 5 cases per million people in the U.S. annually – that cause abnormal fat distribution in the body. Patients generally self-administer the drug once a day, using about 14 vials a month, and Myalept is the only drug available to treat this condition.
Zokinvy – $1,070,000 per year
Zokinvy is used to treat patient one year and older with Hutchinson-Gilford progeria syndrome (HGPS), a condition that affects about 1 in 4 million newborns worldwide. HGPS causes premature aging, and most patients die before age 15. Zokinvy is shown to add up to 2.5 years to a patient's lifespan and is the first and only treatment approved for HGPS.
Danyelza – $1,010,000 per year
Danyelza is used to treat a certain type of cancer – neuroblastoma in bone or bone marrow – by slowing or stopping the growth of cancer cells. Neuroblastoma is less rare than some of the other conditions listed here, with 10.2 cases per million children under age 15 and nearly 500 new cases reported annually. It is still rare, though, and Danyelza is considered an orphan drug – a drug designed to treat conditions affecting fewer than 200,000 people in the U.S.
Kimmtrak – $975,520 per year
Kimmtrak is used to treat uveal melanoma – a kind of eye cancer – in a specific population of patients. Kimmtrak is an immunotherapy, meaning it uses the patient's immune system as a tool to attack cancerous cells. It's delivered through weekly infusions and, on average, gives patients an extra six months with their loved ones.
Folotyn – $842,585 per year
Folotyn is used to treat peripheral T-cell lymphoma – a rare blood cancer with a five-year survival rate of 20%-30%. The cancer affects less than 1 patient per 100,000 people in the U.S. Folotyn is administered by a healthcare professional, and a patient typically receives around 135 vials of the drug annually. Despite its high price tag, the effectiveness of Folotyn has been called into question, such that it has yet to be approved in the European Union.
Should employers be worried?
"Worried" might be excessive. But employers should certainly be aware of – and prepared to handle – the rising number of high-cost specialty medications entering the market. While the drugs listed here treat exceedingly rare conditions, treatments for more common conditions can still carry a hefty price tag. Increasingly, it's not a question of if a high-dollar claim will hit their plan but when. It's something employers and their benefit advisors should consider as they design their pharmacy benefit program.
Carved-out pharmacy plans don't have to be vulnerable to the impact of any of the drugs listed here, or other high-price specialty meds. With a multi-faceted strategy for protection, employers can stay carved out and mitigate the risk of a catastrophic claim. That strategy should include contract terms aligned with the employer's specific needs, expert utilization management that can cut wasteful pharmacy spending while ensuring members still have access to the drugs they need, and traditional and supplemental stop-loss coverage to absorb the impact of those high-dollar claims when they come.
While rising specialty drug costs are inevitable for self-funded employers, worry and risk don't have to be. Talk to your benefit advisor about protecting your plan with the help of RxBenefits.